01 Nov

Sun Healthcare's Got Talent

Huge congratulations to all of our clients for a fantastic night of entertainment at Sun Healthcare's Got Talent.
Celebrating special talents
We were delighted to welcome over 50 people to our talent night last week at The Birdwell Venue in Barnsley. Our annual event celebrates the talents of the people we support across our five residential homes and our community support services.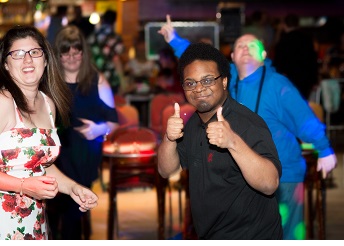 As well as showcasing some great skills, it's also an opportunity for our clients and their families to socialise and enjoy a fun night out together.
And the winner is …
We had 11 contestants who put on an amazing show for us, but the judges' favourite was Victoria with a poem she wrote along with staff from Jubilee Court. Our panel was moved by her poem which explains how autism feels to her, it also includes words from staff at Jubilee who explain how they feel supporting her in achieving her goals.
And here's the winning poem:
The runners up
In 2nd place at our talent night was Callum with a great rendition of Mr Brightside. Then in 3rd it was a group of residents from Jubilee Court (Clement, Michael and Samantha) singing Rockabye Baby. Dean from Tapton Grove won the 'Well Done Award' for playing the Base Guitar, as did Trevor for his comedy and singing – well done guys!
Havenfield Lodge also put on a great show and Albert won the 'Well Done Award' singing the Eddie Holman classic Hey There Lonely Girl.
All of our contestants were awarded a medal for their performances, which included:
Queens, Jacks and the Chicago Kings singing Summer Holiday
Helen from Shaftsbury House singing Believe by Cher – love the outfit Helen!
Alan, who looked great as Elvis, singing I just can't help believin' (from Community Support Services)
Terence from Havenfield Lodge with a brilliant version of Save all your kisses for me.
A big thank you
Thanks to everyone who got involved in our talent night – we hope you enjoyed it.
Our Director, Alan Tolan, and one of our panel of judges on the night commented: "I'd like to extend my sincere thanks to all those involved in the talent night. It was, as ever, a great success and I know everyone enjoyed it. Thanks to Gareth for stepping in at the last minute to host the evening and all the staff involved in getting people to and from the event, I think Colleen from Havenfield made six journeys in all and Roger from St Margaret's drove 160 miles. Also, to all the staff who stayed late."
Thanks to Joe at the Birdwell Venue who let us hold the event in the club free of charge – very much appreciated. Also to Jonathan Turner, presenter at Amber Sound FM for being our DJ for the night.
And finally thanks to all of our talented clients for their performances and enthusiasm. It's a YES from us.