10 Jan

Garden Transformation Project – Roses, Rockeries and the Royal Garden

When our team at St Margaret's decided to enhance the home's gardens, little did they know they were embarking on a garden makeover to rival one of Alan Titchmarsh's.

It all began with the aim of ensuring that residents of the elderly care home in Grimsby had pretty views from their windows and gardens that were relaxing as well as uplifting. What followed over several years was a project that radically transformed many mini-gardens around the home and that involved the support of residents, staff, volunteers, the local community and the Grimsby in Bloom Team.
Garden design
St Margaret's' Activity Coordinator, Iris Reader, started the project back in 2012 with the help of Roger Snowdon, Maintenance and Bill Auld, resident. The aim was for residents to have a peaceful and interesting view from their bedroom windows and areas that were stimulating and safe for them to roam in. For those people who were mobile or could access the gardens with support, the team wanted to create a series of different spaces with lots of colourful planting and seating areas.
To plan and design the garden 'rooms' Iris worked with residents to make scrapbooks that outlined what people liked and for inspiration. Many residents have been involved in the development and design of our gardens, but Bill has been the driving force in making the ideas a reality.
The Royal Garden
One of the first areas the team created was our Royal Garden. This is an enclosed garden that is next to our dementia unit. We had support from local garden centres, Roger, Ron who works at Tapton Grove (one of Sun Healthcare's other services), local businesses and a team of Lifestylers from Middlethorpe Primary and Junior School.
'Before' pictures
'After' pictures
Unknown to us, Grimsby in Bloom judged this garden and we were delighted to receive an award for it.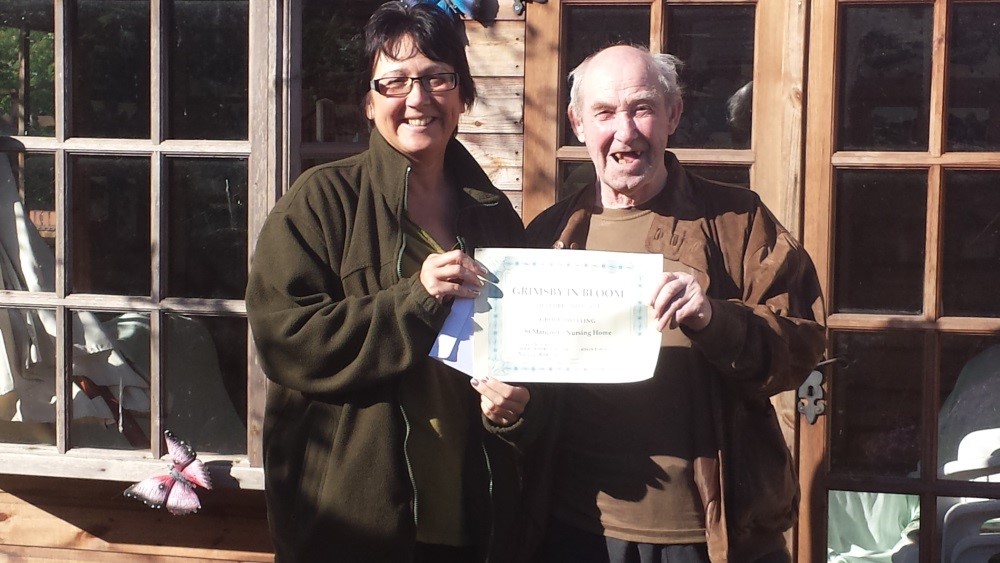 Filling the senses
It is important for the mind and soul to have access to sights, sounds and scents of nature, as well as the ability to touch and feel plants. This is reflected in the choice of gardens at St Margaret's, which include:
The Sensory Garden
With plants such as roses, honeysuckle, mint and bay leaf.
Sensory Garden 'before'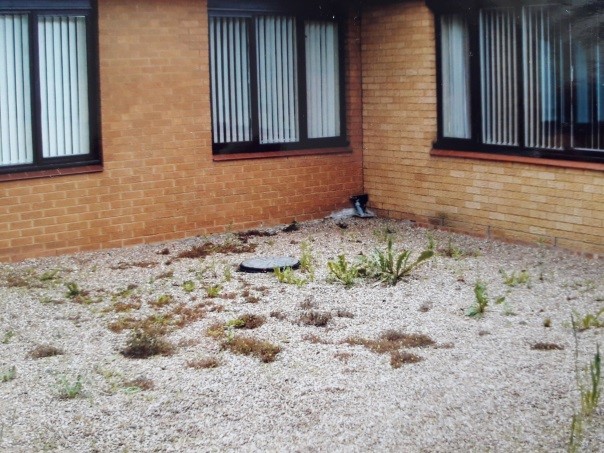 Sensory Garden 'after'
Rockery and Pond
With fish that our residents like to take care of with the help of Roger.
Wildlife Area
With apple and pear trees, lots of buddleia for the butterflies and bees and a wildflower meadow. This is visible from our activity room and gives people an alternative to the more traditional garden.
Wildlife Area 'before'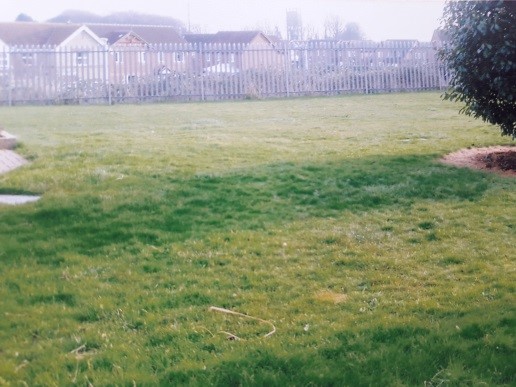 Planting, watering and nurturing
Wildlife Area 'after'
Our first fruits
Our Buddleias are thriving and being attacked by butterflies and Bill and Iris regularly pick brambles.
The Rose Garden
Our most recent project has been transforming an unused piece of grass into a vibrant and inviting rose garden. Residents of the home were very keen to have a rose garden, with people working together to share ideas of what they wanted.
Eileen (sadly no longer with us) mapped out a fantastic design for the garden. With the help of residents, Roger, Iris, Barbara (our Activity volunteer), the Grimsby in Bloom Team, Grimsby Garden Centre (who helped us with the roses), The Rock Foundation (local charity that supports people with learning disabilities who made the arches and bench), the garden, as the following photos show, has worked out wonderfully.
Rose Garden 'before'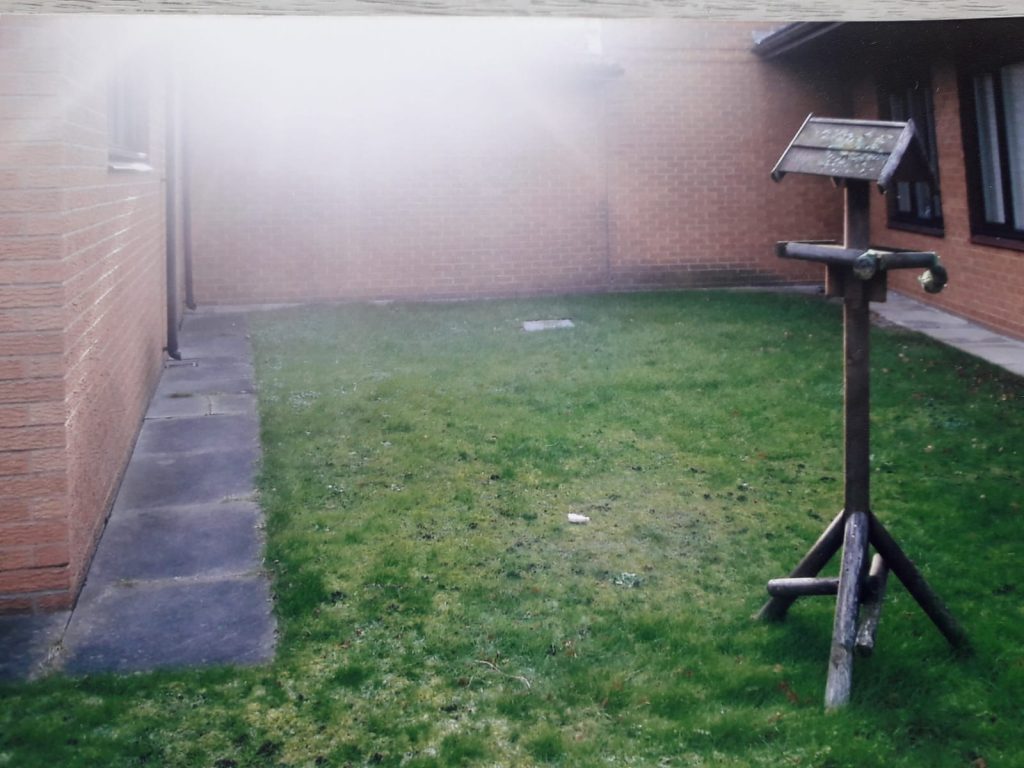 Creating our garden
Rose Garden 'after'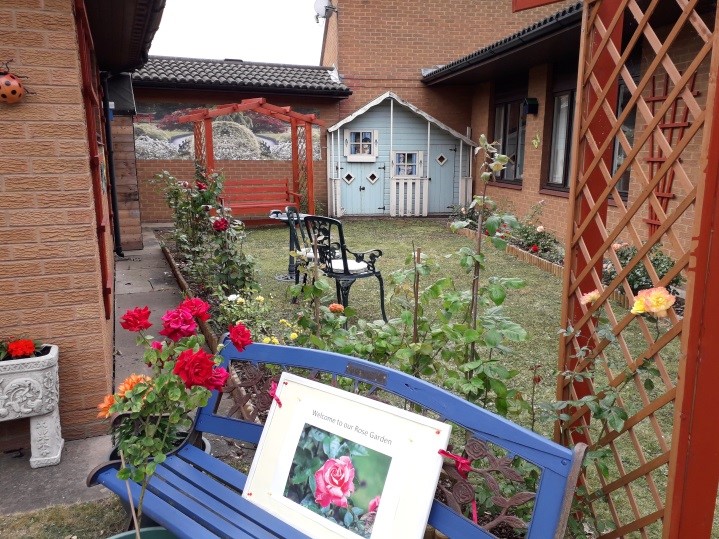 Last summer the project was judged by the East Midlands In Bloom Team. We were delighted to be awarded the East Midlands Judges Award 2018.
Although the garden isn't quite finished yet, it has already brought lots of enjoyment to residents and staff alike. We've had a birthday celebration in amongst the roses and people have been requesting rooms with a view of the beautiful blooms.
A helping hand
Over the years the team have organised sponsored walks and staff have taken on personal challenges (Kathleen cycled from Barnetby Top to the home; two young boys, Richard and Liam, took part in the 25th RAFWARMA Winter 30km March, in Sandbach, Cheshire) to raise money for our garden projects, raising hundreds of pounds.
We've been fortunate to receive help from Grimsby in Bloom – their team have been very supportive and came to help dig out and plant the rose borders.
What's next
Residents have been busy painting bird boxes, making bird feeders for our feeding stations and our next jobs on the to-do list include making a path to the garden and painting the summerhouse. A recent visit from the In Bloom Judges brought home to the team just how far they'd come when they saw their shocked expressions at the transformation of the garden following their visit last year.
Debbie Cousins, Manager at St Margaret's Care Home, comments: "We're all really proud of everyone who has been involved in our garden project. They have revitalised the gardens and have provided such joy for our residents. We'd like to say a big thank you to everyone in the community who has supported us, including Grimsby in Bloom, The Rock Foundation, local garden centres and our residents' families."
The team are hoping to finish the garden in coming months and plan to hold an official opening in spring. Keep an eye on our Facebook page to see their progress.